Blackview, a flourishing technology company, recently released its latest smartphone, A96. It joins the A-series stars with an appearance inherited from the iconic designs from the lineup. And also brings a more immersive audio-visual experience with a 6.5″ 2.4K 120Hz display and Harman AudioEFX®-tuned sound delivered by dual smart-PA harman/kardon® speakers. Or robust and seamless performance with 6nm Helio G99 Soc and up to 24GB RAM. Eventually enhanced photographic entertainment with Blackview ArcSoft® 6.0 algorithms-backed 48MP Samsung® camera modules and even more.
Simple and Elegant Design by Sophisticated Craftsmanship
Adhering to the simple and elegant design of the A series, A96 showcases a flat-edged design along with flat aluminum alloy frames. Then a matte-finished glass back and a triple-ring camera design, which is reminiscent of the latest iPhones. Treated with sophisticated craftsmanship, it is carved with exquisite texture on the back and the glossy silky-smooth metallic frames, adding elegance to the look and tactile comfort to the touch. However, unlike its precursor in the A series with luxuriant color palettes, A96 comes with two understated color options. Obsidian Black and Provence Purple.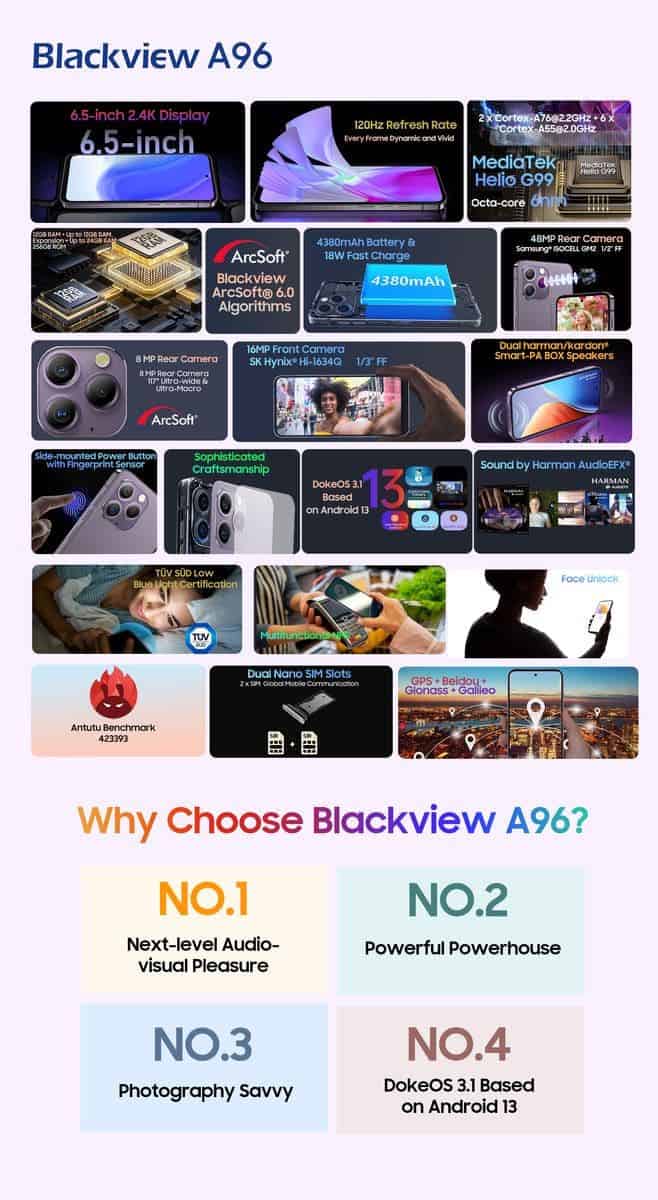 No.1 Immerse in the Audio-visual Feast  
—6.5″ display with 2.4K Resolution and a 120Hz Adaptive Refresh Rate & TÜV SÜD Low Blue Light Certified & Dual Smart-PA harman/kardon® Speakers with Professional Harman AudioEFX®-tuned Sound
Whether playing games or streaming movies, A96 sports a 6.5″ display with 20:9 aspect ratio. Ensuring it is both portable and immersive. The wide screen with 2.4K high resolution housing a punch-hole camera in the center and razor-thin bezels. So it expands the viewing even more immersive and brings every detail to life with vibrant colors and sharp text. A96 also supports a 120Hz dynamic refresh rate, which can be calibrated to offer options for users to balance smooth responsiveness with optimized battery life. Whether reading, browsing, film-streaming, or playing pixel-intensive games, A96 allows users to indulge themselves in the kaleidoscopic digital world. For better eye health, A96 incorporates a screen certified with TÜV SÜD Low Blue Light Certification. Relieving eye fatigue and eye drain.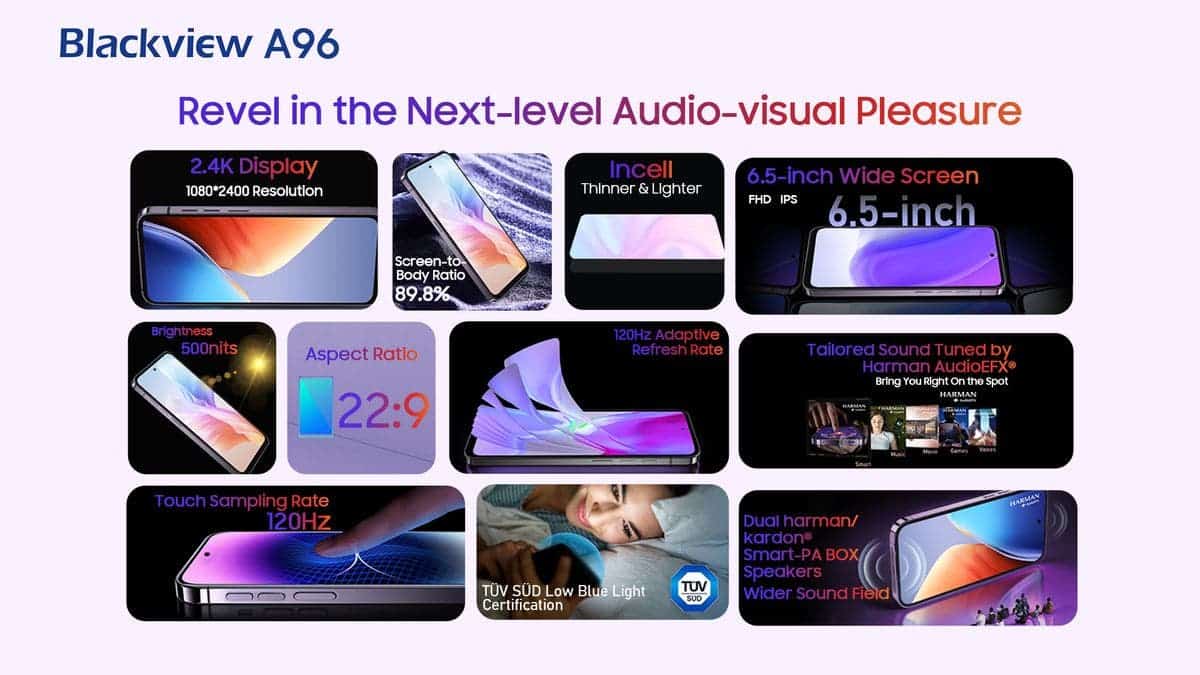 More than that, A96 levels up users' entertainment experience further with spacious audio delivered by dual Smart-PA harman/kardon® box speakers with sound tuned by Harman AudioEFX®. The wider sound field, working in tandem with tailored sound effects, creates an on-the-scene experience for users to immerse in thrilling gaming, their favorite music and calls, as if they are talking face to face.
No.2 Powerful Powerhouse -Boost Gaming and Multitasking with Fluency and Speed
—6nm MediaTek Helio G99, Up to 16GB/24GB RAM & 256GB ROM
To provide users with a premium experience, A96 is powered by a 6nm MediaTek Helio G99 processor. Which is ranked among the best 4G chipsets. Be it pixel-hungry games or CPU-intensive multitasking, A96 ensures smoothness and responsiveness with lower power consumption thanks to 2 powerful A76 clocked up to 2.2GHz and 6 power-efficient A55 clocked up to 2.0GHz. To ensure users' fluid demanding workloads while catering to diverse user preferences, Blackview A96 comes with two memory options, 8GB memory and 12GB memory. Both of which can be doubled without cost owing to the advanced RAM expansion technology introduced by Blackview. As people store more apps and files in their smartphones, A96 satisfies users with a storage of 256GB. Furthermore, A96 has integrated a heat-dissipation system for a cooler gaming and multitasking experience. As a result, the 12GB memory edition scored 423,393 on the Antutu Benchmark.
Gizchina News of the week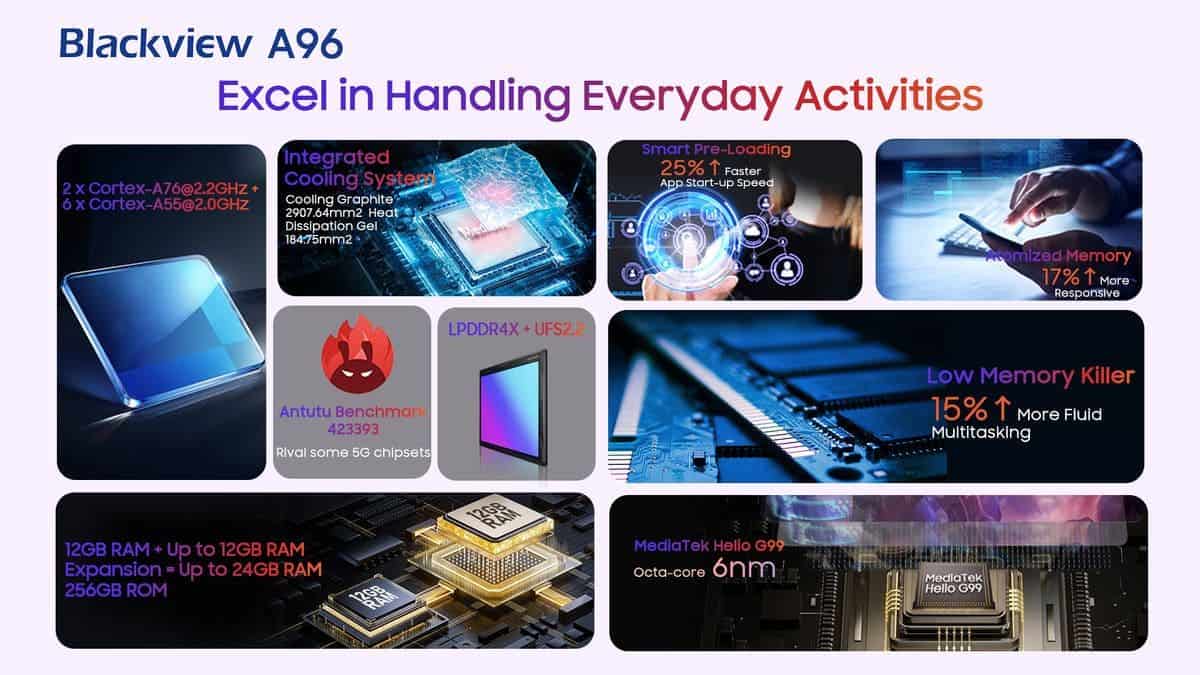 No.3 Photography Savvy—Capture Every Moment with Clarity
— Blackview ArcSoft® 6.0 Algorithms, 16MP Front+ 48MP Samsung® ISOCELL GM2 main + 8MP 117° Ultra-Wide & Ultra-Macro Secondary Rear Cameras
To enrich users' shooting experience, the A96 sports a 16MP front (Re-mosaic algorithms) for perfect selfies. Or 48MP Samsung® main camera for high-definition images with clarity and an 8MP 117° ultra-wide and ultra-macro secondary rear camera for grand vistas with 117° ultra-wide field of view and close-ups of a magnified world. The 16MP front camera with high color accuracy restores the true skin tones. The 48MP Samsung® main camera with TetraPixel technology, Super-PD Auto Focus and Smart-ISO enables users to shoot whether day or night, indoors or out, static or dynamic, with clarity, especially making shots of night scenes more charming with less noise and richer details.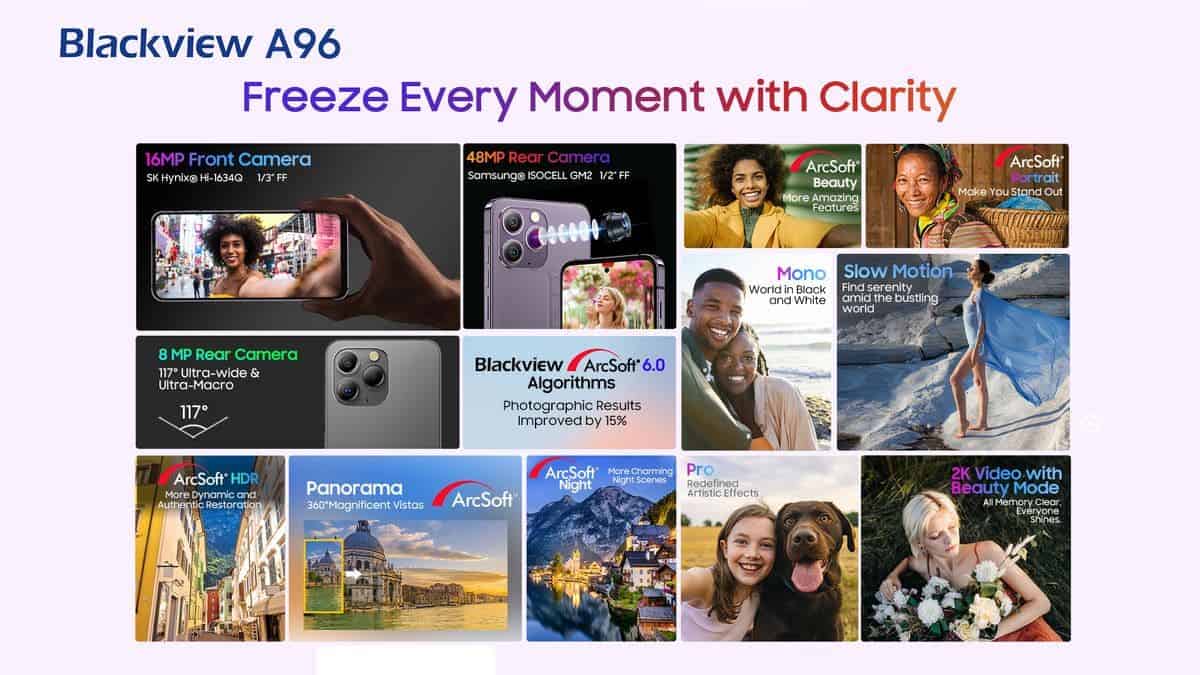 More than that, Blackview also made efforts with multiple camera modes to further satisfy users' shooting needs and merges the latest Blackview ArcSoft® 6.0 algorithms into some of them. Resulting in an improvement of 15% for the photographic results.  For vloggers and YouTubers, the 2K video with beauty mode is a very good choice.
No.4 DokeOS 3.1 Based on Android 13
-More Personal Options & User-friendlier Apps & More Comprehensive Information Protection
Except for providing A96 with more responsiveness, A96 with DokeOS 3.1 based on Android 13 brings users more personal options, user-friendlier apps and more procedures built-in for higher privacy. Users can customize the app folder colors and set individual app languages at will. With the Focus Mode App, users can select a suitable mode according to the actual usage scenario. And with the Health App, users can track their health conditions by recording their daily health metrics. To provide higher privacy, A96 safeguards users' information safety by putting all the information under the double protection of DAC&MAC, clearing clipboard history to prevent unwanted access and achieving full control over permissions with Permission Manager.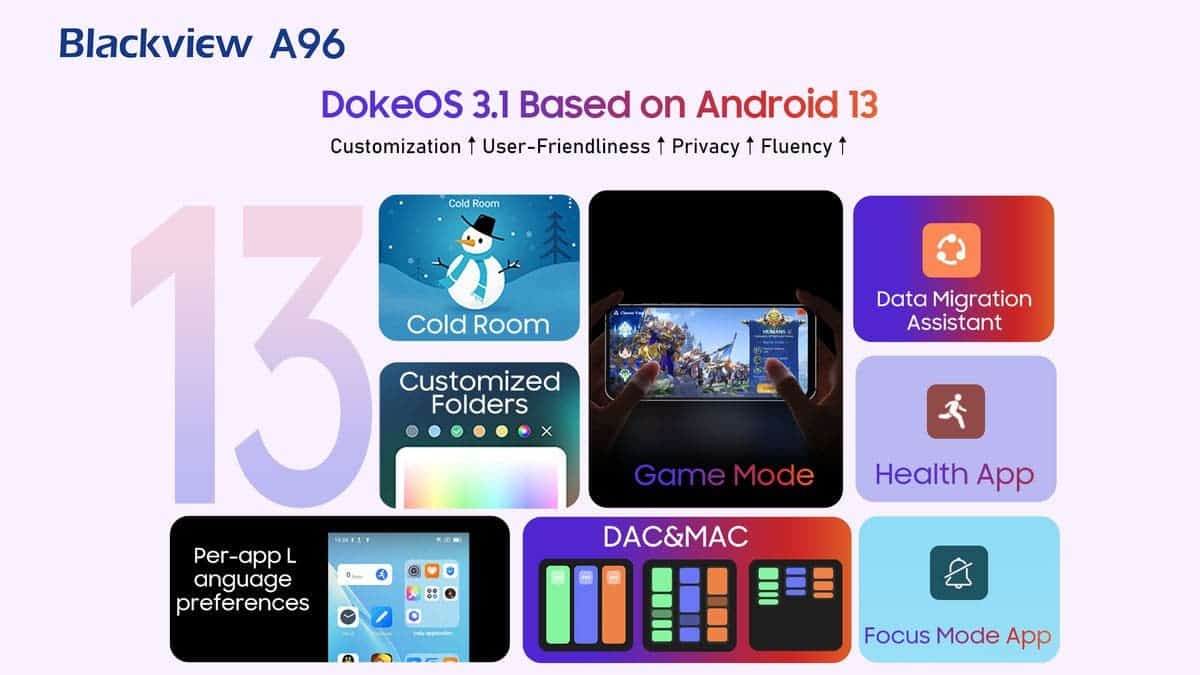 Other Highlights
Within a thickness of 8.6mm and a weight of 193.9g, A96 boasts a battery of 4,380mAh, which provides users with up to 504 hours of standby. Thanks to the 18W fast charging support, it will be ready at 50% after you finish a meal in about 30 minutes. Providing more convenience for users' lives, A96 supports face unlock, multifunctional NFC, and dual SIM slot with global mobile communication support.
Price and Availability
Blackview A96 will be first available on AliExpress. From September 18th to September 22nd, 2023, PST, you can get A96 at an early bird price. 8GB+256GB edition at $169.99 and 12GB+256GB edition at $179.99. Surprisingly, for the enthusiasts, Blackview will be gifting a pair of AirBuds 6 for the first 100 orders. You can click here already to seize the opportunity and save big.