vivo is one of those Chinese manufacturers that never ceases to amaze us. While they're one of the smaller Chinese phone brands that release its phones in the West, they boast quite a few impressive Android phones, so we're expecting big things from them in the future. They were founded in 2009, selling phones in only China for a time. This changed in 2014, when the company extended its reach to a few more countries, predominantly in South Asia. The brand released its first smartphone in Europe in 2020, and now sells its devices in a few countries on the continent including the UK, France, Italy and Spain.
Today we have the pleasure of speaking with Daniel Goetz, Product Manager at vivo Europe and one of the newest members of the vivo "family" in the last couple of years. Join us as we delve into his remarkable journey and gain valuable insights into the success of one of the most promising smartphone manufacturers in the market today.
The interview was made possible with the help of our experienced author Abid Ahsan Santo.
Question
About vivo V29 series, we can see that the Aura Light found in vivo V29 is one of its main highlights. Can you share any details about the innovation and engineering efforts that went into developing this Aura Light function featured in vivo V29?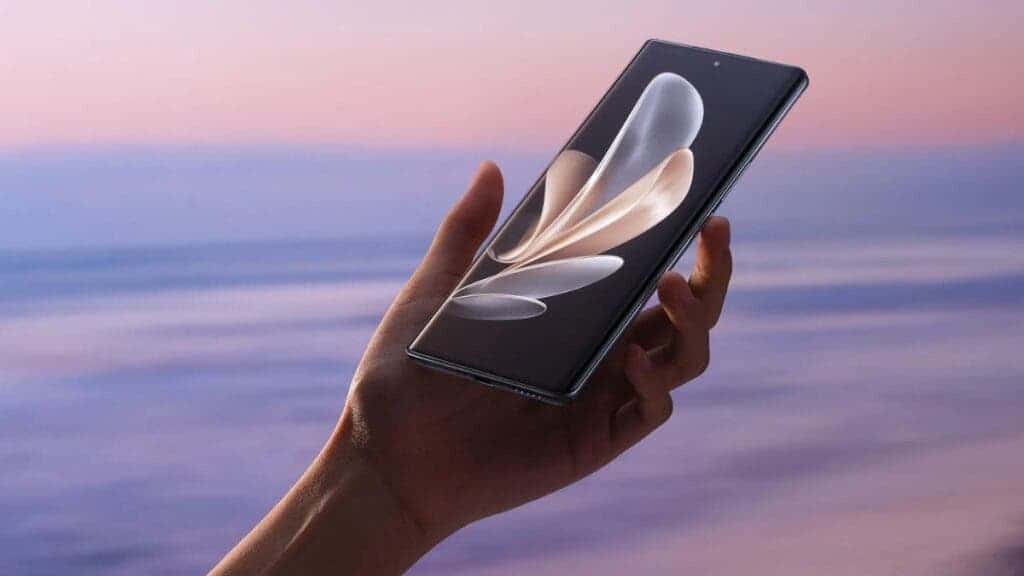 Daniel Goetz: Unlike ordinary phone flashes, V29's Aura Light is designed specifically for portraits. As the largest Aura Light in V series' history, it has an increased diameter of 15.6 mm, and can create three-dimensional soft, non-dazzling light reminiscent of that at a professional studio. Its soft and uniform lighting prevents that dazzling effect, avoiding blinking and oily skin appearances. Hence, night portraits look more detailed and vivid, and the subject's skin looks brighter and more delicate. Compared to standard flashes, V29's Aura Light has nine times larger light-emitting area, and a 36% increase in brightness compared to V27.
Hand in hand with the Aura Light, comes the Smart Color Temperature Adjustment. It automatically adapts the colour of the ambient light to various environments with different colour temperatures, ensuring clear, natural, and exquisite low-light portraits. To sum it up, the upgraded Aura Light enables users to take stunning photos in most scenarios, especially for low light and night scenarios. With the upgraded Aura Light on V29, our users can have full flexibility when they want to take portraits in various low light or night scenarios.
Question
vivo V29 boasts impressive overall specs, offering great value for money. However, the Snapdragon® 778G processor used in the phone is more than two years old. Qualcomm updated the 7 series chipset lineup with the recently released 7+ Gen 2 and 7 Gen 1 in May of 2022. Could you provide some insights into the decision-making process behind choosing the Snapdragon 778G for vivo V29? What were the specific factors or considerations that led to this choice?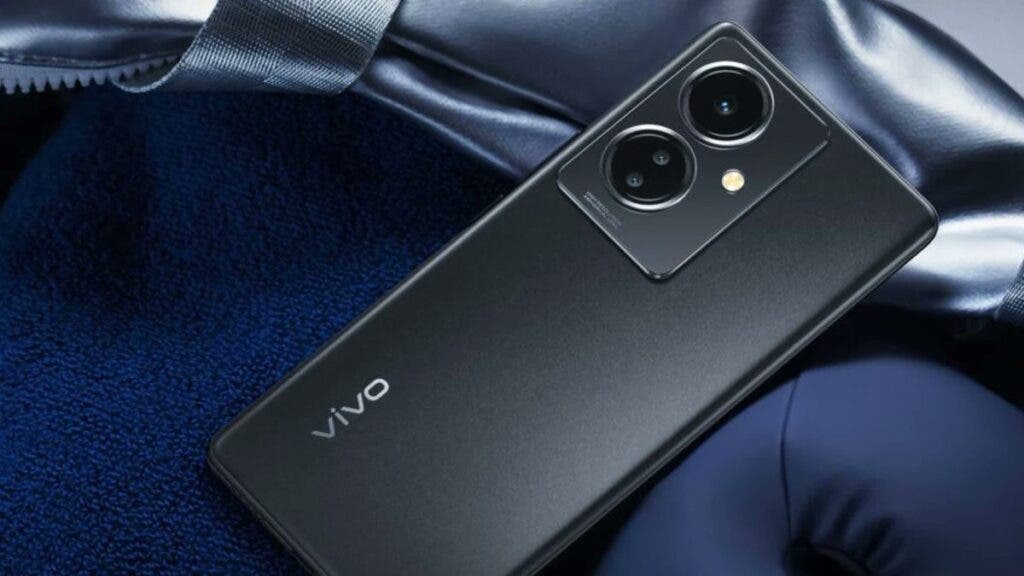 Daniel Goetz: With the V series, we want to deliver an all-around carefree package at an attractive price point. A product is always as good as the selection and the combination of its individual parts. We believe that the V-Package is a good match for our consumers' needs, with which they can fully rely on a stable and good performance for everyday tasks, with additional add-on features such as the Aura Light with Smart Color Temperature Adjustment and 80W FlashCharge.
While newer processors are available in the market, the Qualcomm Snapdragon® 778G has consistently demonstrated strong and reliable performance. It's a processor that aligns with the daily usage patterns and needs of our V series consumers.
But there's more
Notably, V29 is equipped with a set of premium features for flagship phones. The IP68 rating* is a prime example. Historically, it is a feature reserved for flagship phones, but this time, we've introduced it to the mid-price segment, as we understand the active lifestyles of V series' users and their expectations for durability. The resistance of V29 to dust and water in everyday scenarios ensures that users have peace of mind in various conditions. Additionally, vivo's professional quality assurance team has undertaken over 60 reliability tests to ascertain each product aligns with our stringent quality benchmarks. 
In conclusion, while processors play an essential role, V29 is a testament to our belief that it's the cumulative experience, bolstered by premium features and certifications, that truly resonates with our consumers. Thus, V29 offers an unparalleled combination of stylish design, studio-level imaging capabilities, powerful performance, and value for money.
*This product rates as IP68 for splash, water, and dust resistance under IEC standard 60529 and was tested under controlled laboratory conditions.
Question
Considering vivo V29 Lite's impressive specs and competitive positioning as a feature-packed mid-range device, how do you envision its performance and market reception when compared to a direct competitor like the Samsung Galaxy A54?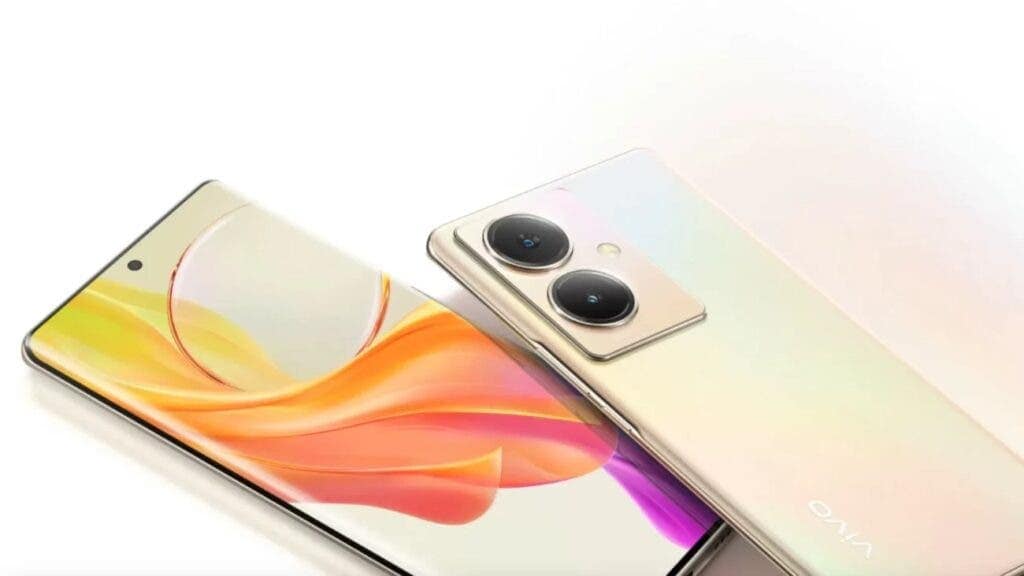 Gizchina News of the week
Daniel Goetz: At vivo, our primary focus is on constantly understanding and meeting the unique needs of our consumers. Our V Series stands for uncompromising performance in core features for everyday use, and innovation is where we see our strength at vivo. We believe that V29 sets a new benchmark in the mid-range price segment. To point out some key features that make V29 stand out: the unique camera set-up with the upgraded Aura Light and Smart Color Temperature Adjustment, 50 MP on both cameras, and the 92° field of view on front camera, the IP68 water and dust resistance, 80W FlashCharge, and the clearest screen in the history of V Series. Combining those features within its slim and innovative design with 3D Magnetic Particles, is what makes V29 stand out within the midrange smartphone price range.
Setting an example
As for V29 Lite, we believe it sets another benchmark in a different price segment. V29 Lite puts heavy focus on build quality and reliability, with a feature set adapted to real-life usage scenarios. Key features that make V29 Lite stand out include: a 64 MP OIS Anti-Shake main camera, 120Hz eye-protection AMOLED screen, and 44W FlashCharge as well as the robust 5000 milliamp battery, which guarantee carefree usage throughout the day. V29 Lite also introduces the Extended RAM feature, eSIM capability, and IP54 water and dust resistance. When combined with its refined design, V29 Lite truly stands out in the mid-range smartphone category.
By ensuring a diverse line-up that caters to various consumer needs and usage habits, we are confident in the appeal and reception of each model within V29 series for their targeted audience.
Question
Congratulations on the success of vivo X90 series. It's evident that the release has been well-received. However, there's been some curiosity among global consumers about vivo X90 Pro+ model being China-exclusive. After all, it's a better camera phone than vivo X90 Pro. Can you share the reasoning behind the X90 Pro+ staying China-exclusive?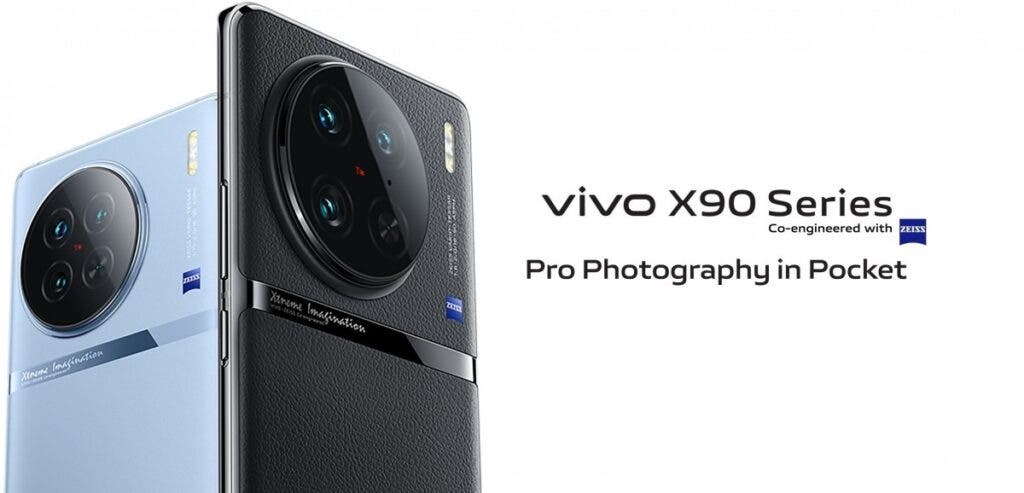 Daniel Goetz: As a consumer-centric brand, vivo is committed to providing consumers reliable, high-performing flagship smartphones as well as quality user experiences. In line with this, vivo has thoroughly considered the needs of international users and the demand in each market when launching the X90 and X90 Pro models in overseas markets.
In terms of camera configuration, X90 Pro shares many strengths as X90 Pro+ in terms of rear camera specs, delivering a top-tier photography experience. Both models feature a 1-inch 50MP sensor as the main camera, supported by a 50MP fixed-focus camera, along with a laser autofocus sensor and a wide-angle camera. While it's true that X90 Pro+ has an additional 64MP periscope medium telephoto lens, the differences between the two models are minimal beyond that.
True powerhouse
Performance-wise, both X90 Pro+ and X90 Pro are exemplars of excellence. X90 Pro+ and X90 both offer top-of-the-line performance with their respective flagship processors, the Qualcomm's Snapdragon 8 Gen 2 and MediaTek Dimensity 9200. In terms of display, X90 Pro boasts a BOE Q9 6.78-inch[1] Ultra Vision Eye Protection Screen, supporting 2,160Hz high-frequency pulse-width modulation (PWM) dimming, whereas X90 Pro+ features a Samsung 6.78-inch 2K E6 screen with 1,440Hz high-frequency PWM dimming. Battery-wise, X90 Pro houses a slightly larger 4,870 mAh battery that supports both 120W Super FlashCharge and 50W Wireless FlashCharge, while X90 Pro+ is equipped with a 4,810 mAh battery and dual-cell 80W FlashCharge. Additionally, X90 Pro+ runs on OriginOS, while X90 Pro operates on FunTouchOS, to better meet the needs of users in each market and provide them with better operating.
As the latest flagship addition to our X series, our ambition is to ensure that consumers worldwide can immerse in vivo's top-tier camera capabilities and innovative technologies. In markets outside of mainland China, vivo follows its global strategy of "More Local, More Global" and conducts in-depth research and testing on the needs of local users. We consistently strive to provide the most suitable products and experiences, prioritizing our X series' users' needs in each market and providing them with suitable products, features, and user experiences. We are more prepared than ever to adapt to the needs of international users and the demand in each market latest, and continue delivering top-notch products to our customers.
Question
We've heard about the exciting collaboration between vivo and Sony's Lytia division to create a customized version of the LYT800 sensor for the X100 series. How does vivo plan to leverage this sensor to attract photography enthusiasts and users who prioritize capturing high-quality images in challenging lighting conditions?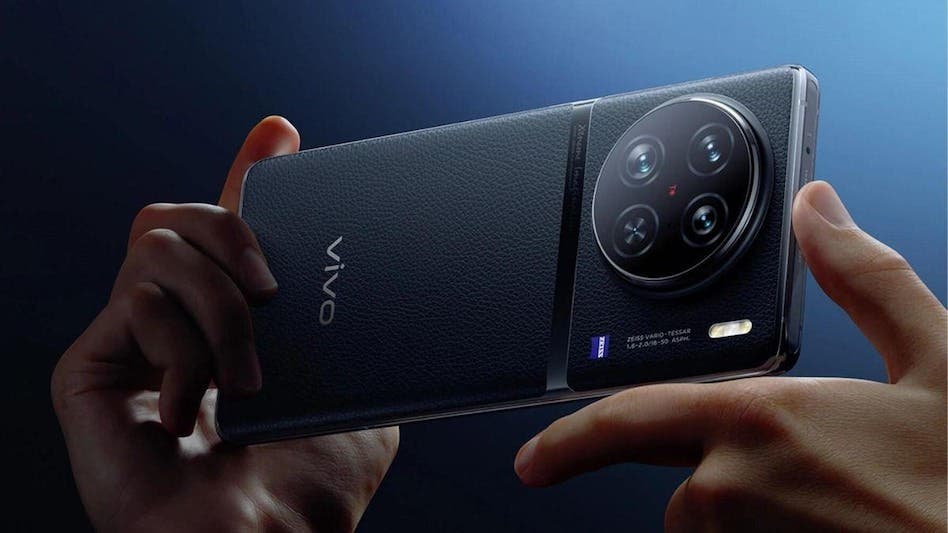 Daniel Goetz:  We are pleased to further intensify our collaboration with Sony. As recently announced at our imaging conference, we will work together on innovations like the 2-layer pixel (stack pixel) and HDR in the future. vivo will also actively expand joint innovation research by collaborating with more industry partners.
About Daniel Goetz
Daniel Goetz joined the vivo European Headquarters in Dusseldorf as Product Manager in 2022. In this role, he contributes to the market positioning and the launch of vivo smartphones across Europe, with responsibilities including GTM (Go-To-Market) strategy across different product series. This ranges from the entry-level Y series to the mid-range V series, all the way up to the flagship X-series. Particularly with the X-series and especially in co-marketing with the experts from ZEISS, Daniel plays an important role as the European spokesperson of vivo. His passion for strong products goes hand in hand with his enthusiasm for intercultural exchange.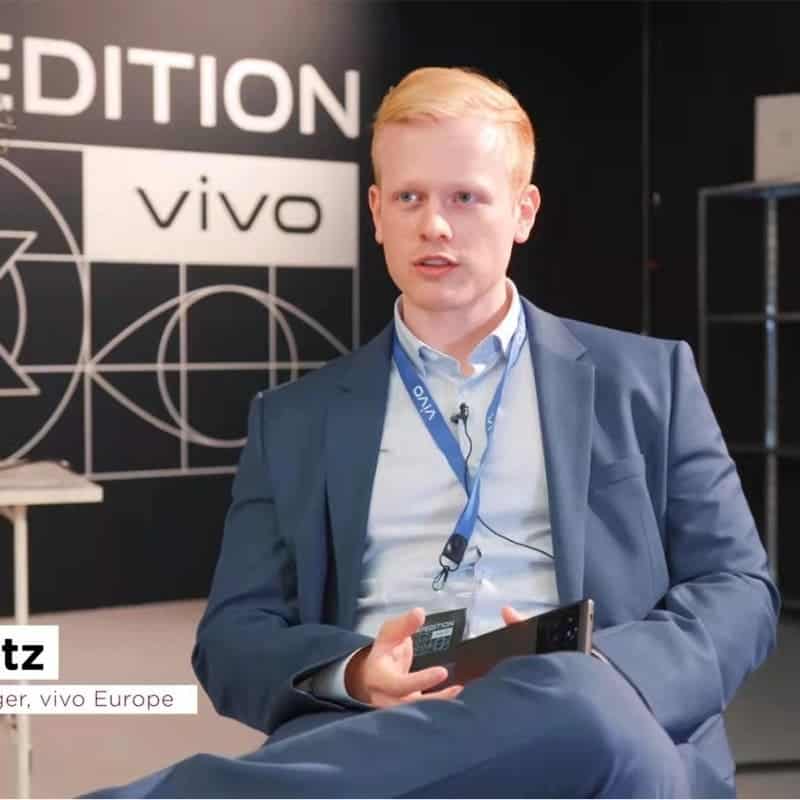 Daniel grew up in Germany and is fluent in English and conversant in Chinese. Before joining vivo, Daniel held various positions in marketing and business development in international companies within the consumer tech industry.